Lake Tahoe Summit Focuses on Greater Partnerships
August 24, 2015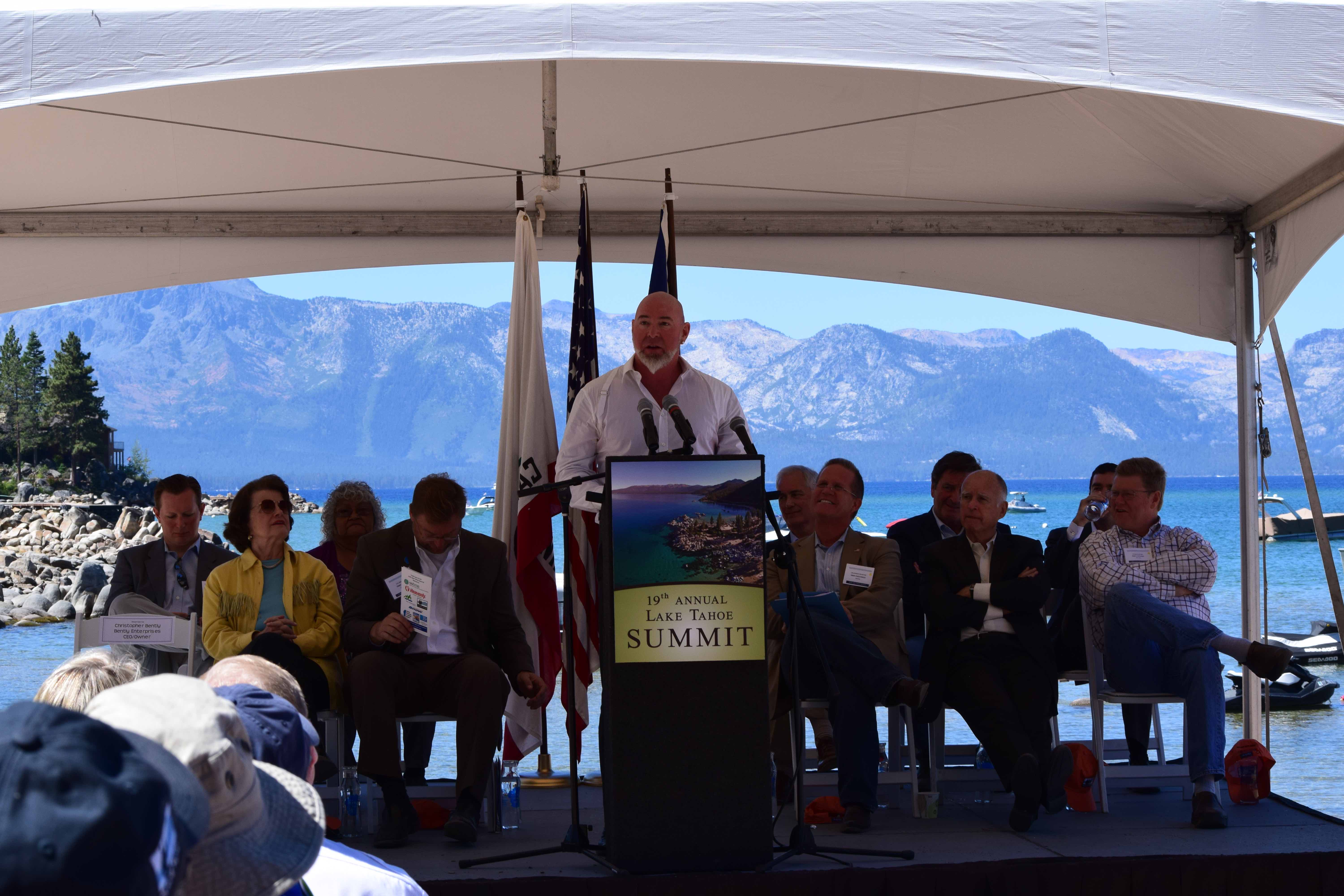 ZEPHYR COVE — Nevada Congressman Mark Amodei, R-Carson City, recalled cleaning toilets at Sand Harbor. Chris Bently, chief executive officer of Bently Enterprises, said his first sunburn happened on the beaches around Round Hill Pines Beach as a kid.
Those were some of the stories business, state and federal leaders referred to during the 2015 Lake Tahoe Summit at Round Hill Pines Beach on Monday.
All presenters agreed that action must be taken to preserve Lake Tahoe for future generations.
Elected leaders also reflected on the need for greater partnerships, as well as proactive fire prevention measures.
"Wildfire, drought and aquatic invasive species pose a threat to the lake," said Nevada Lt. Gov. Mark Hutchison in the opening statement.
The summit, themed "Connecting Lake Tahoe's Environment and Economy Through Innovation and Transportation," focused on managing the crowds that flock to the sunny beaches and chilly waters of the alpine lake.
All the speakers at the summit agreed that partnerships are essential Lake Tahoe's continued success and protection.
Bently, CEO of Bently Enterprises, pointed to the public/private partnerships that have helped shape transportation at Tahoe, including $400 million in Douglas County. He said what the private industry can't offer is the needed public infrastructure, so partnerships are necessary.
"We have an opportunity to start new and rebuild in a proper manner in a way the world will recognize and continue to visit," Bently said.
One prime example, Sen. Dean Heller, R-Nev., noted, was the Alert Tahoe program, a system of live surveillance cameras that keeps tabs on fires in the Lake Tahoe Basin.
"This system is making a great difference," Heller said.
Both Hutchison and Gov. Brown additionally noted partnerships between states have increased in the last few years.
Hutchison said this should continue to extend to all stakeholders to protect Lake Tahoe.
"I'm confident that we share this commitment and look forward to working together to make sure Lake Tahoe one most beautiful," he said.